6:15 PM to 7:30 PM every Wednesday Night During the school year.
We don't have Awana if schools are out. (Check the church calendar for the full schedule, under the events tab)
Want to learn more about Awana Clubs? Watch the video.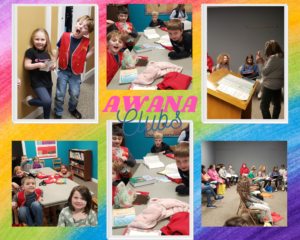 I
In
many circles, "puggle" is a common term for a baby platypus. In children's ministry circles, Awana Puggles is an enriching program for your pre-Cubbies kids (usually older 2- and younger 3-year-olds) that presents basic biblical concepts through teaching cards, activities, music and games.

The Cubby Bear group is Preschoolers learning about Jesus thru puppets, games, activities and fun.

Sparks are 1st and 2nd graders learning about the bible thru fun games and activities.

Truth & Traing begins to disciple young 3rd thru 6 th graders in the bible. They have fun going thru the Awana Truth in Training book each week. They read comic strips, have races to find bible verses(for candy prizes) and answer questions about the verses they are memorizing for Awana Bucks, they can spend at the Awana store. Kids this age really enjoy the challenge and the rewards.
Our church is eager to provide links to our weekly sermons and videos. You can browse the selection below to keep up with the teaching ministry.
Fun, games, snack and learning about God every week.