We appreciate every prayer that has been said for Levi and our family! Please keep praying for continued healing for our boy!! Levi God's got BIG plans for you !! Jeremiah 29:11. The Lusk Family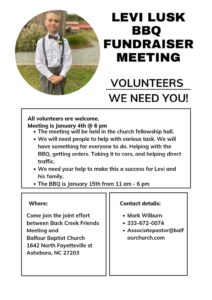 Start your gift to the Lusk Family by filling in the amount below and the form will start.
Watch the video of the prayer time for Levi at the bottom of the page.
We will be having a BBQ Benefit for the family January 15th, 11AM to 6PM or until we sell out, at the Balfour Ministries Building. 1800 pounds of BBQ will go quick.
10.00 per plate. BBQ, Slaw, Beans and dessert
You can mail any donations to : Balfour Baptist Church/Levi Lusk Fund 1642 North Fayetteville St. Asheboro, NC 27203 (Please put Levi Lusk Fund in Memo)